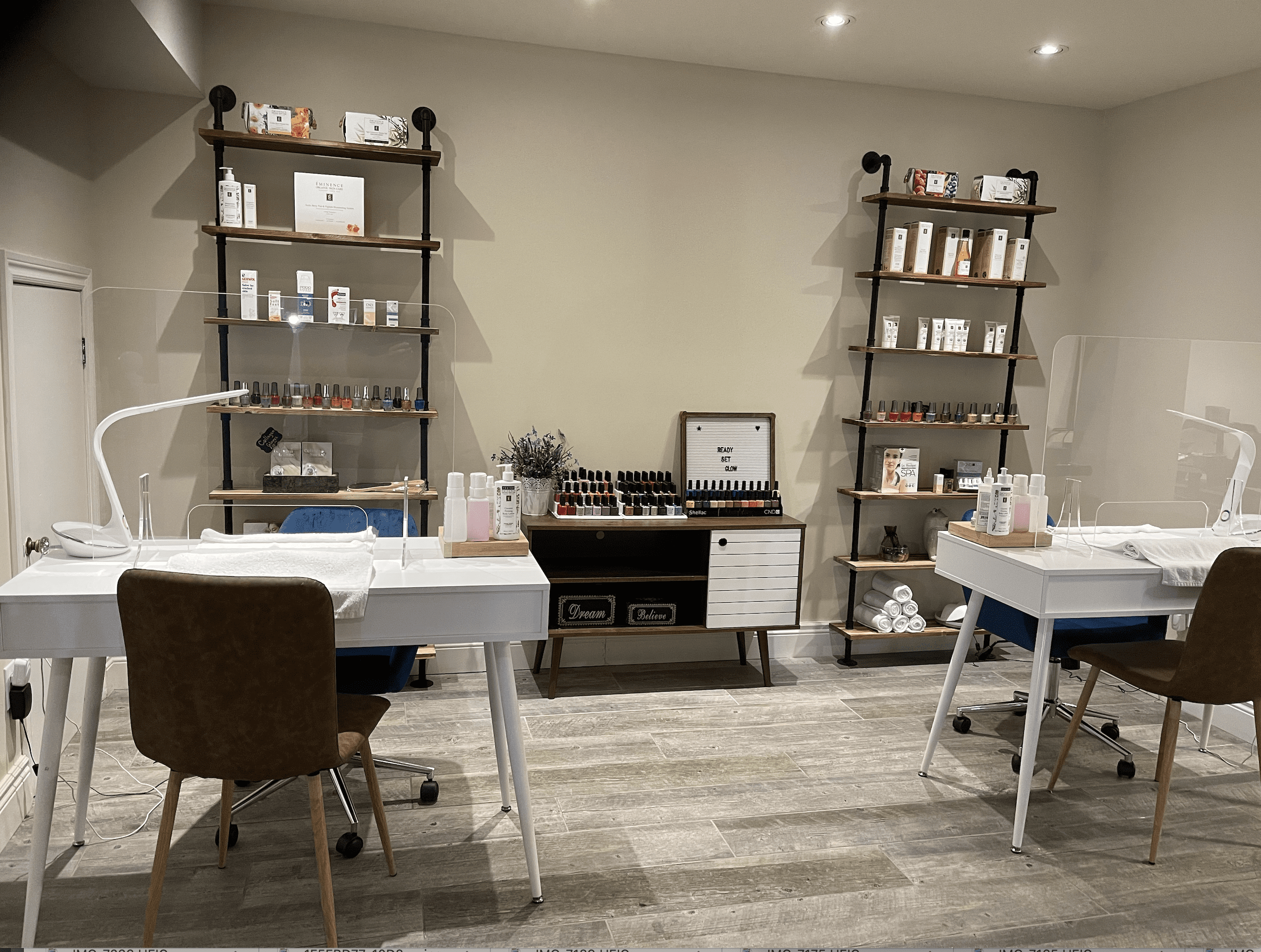 Step into the
World of Relaxation
Spa at the
Puddicombe House
Step into the world of rest, relaxation and renewal at the Puddicombe House Spa and Hair Salon. Spa Manager Amber and her capable staff are there to pamper you from head to toe.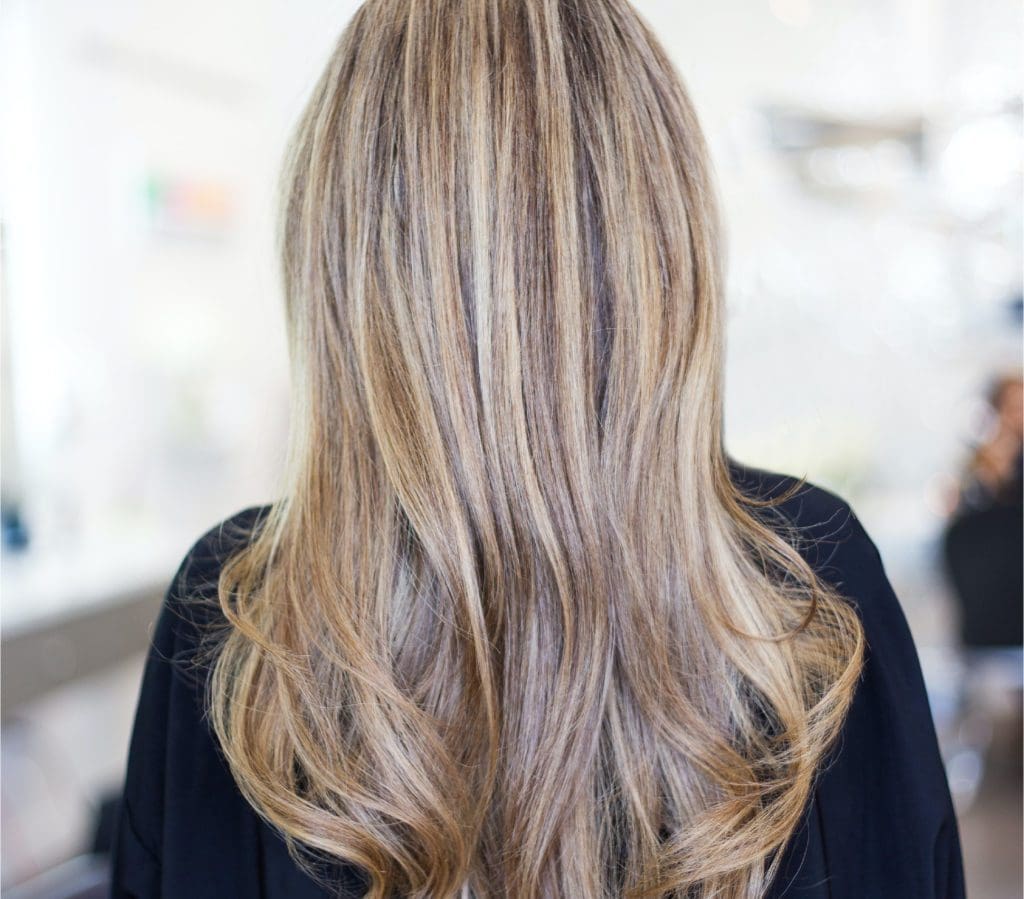 Hair Services
Whether it's a "pick-me-up" wash and trim, or you're considering a new look with foil highlights or colour change, Amber's knowledgeable staff are pleased to assist. Complimentary consultations are offered. Women, men, teenagers and children are welcome. Puddicombe Spa and Hair Salon proudly features the Kevin Murphy line of hair products.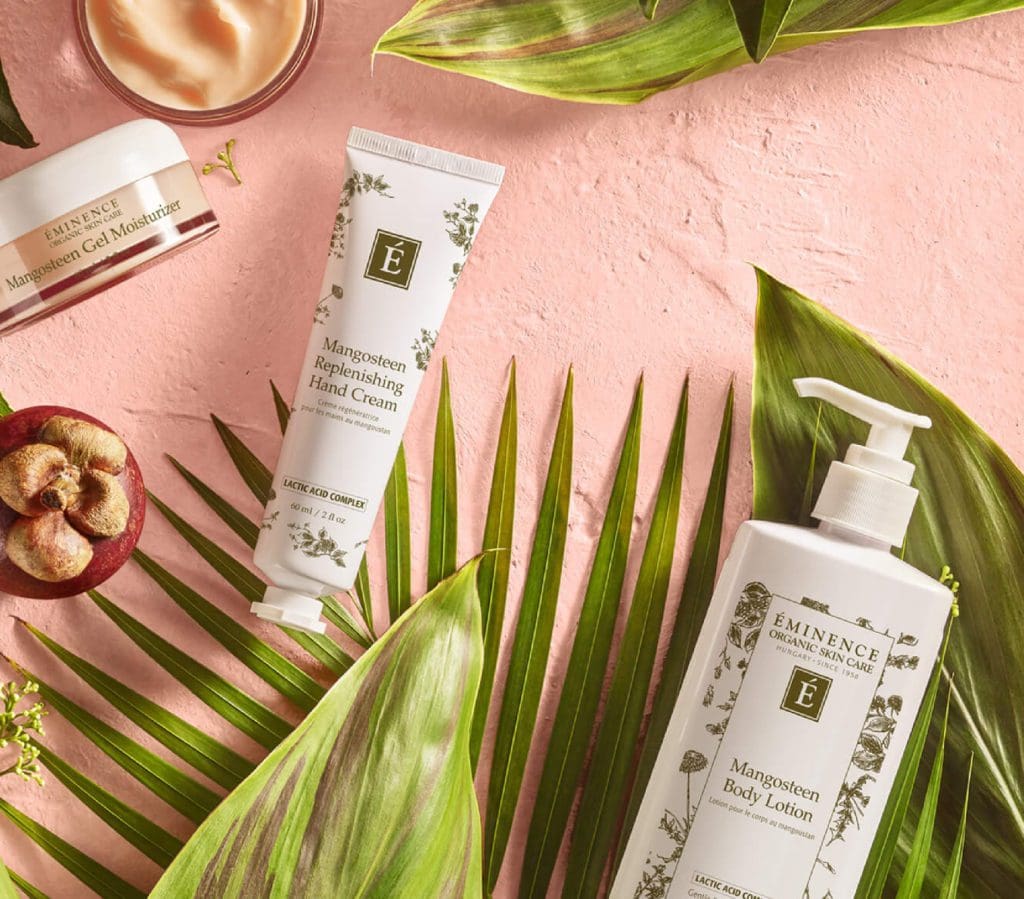 Spa Services
Fully trained aestheticians offer a complete range of spa services from facials to body waxes and wraps. Puddicombe features the Eminence Organics line of spa products. Why not complete your visit to Puddicombe Spa and Hair Salon with a professional make-up session? The Jane Iredale line of cosmetics and skin care is the Puddicombe choice. Mineral based and organic, Jane Iredale is developed with the health of the skin as well as beauty in mind.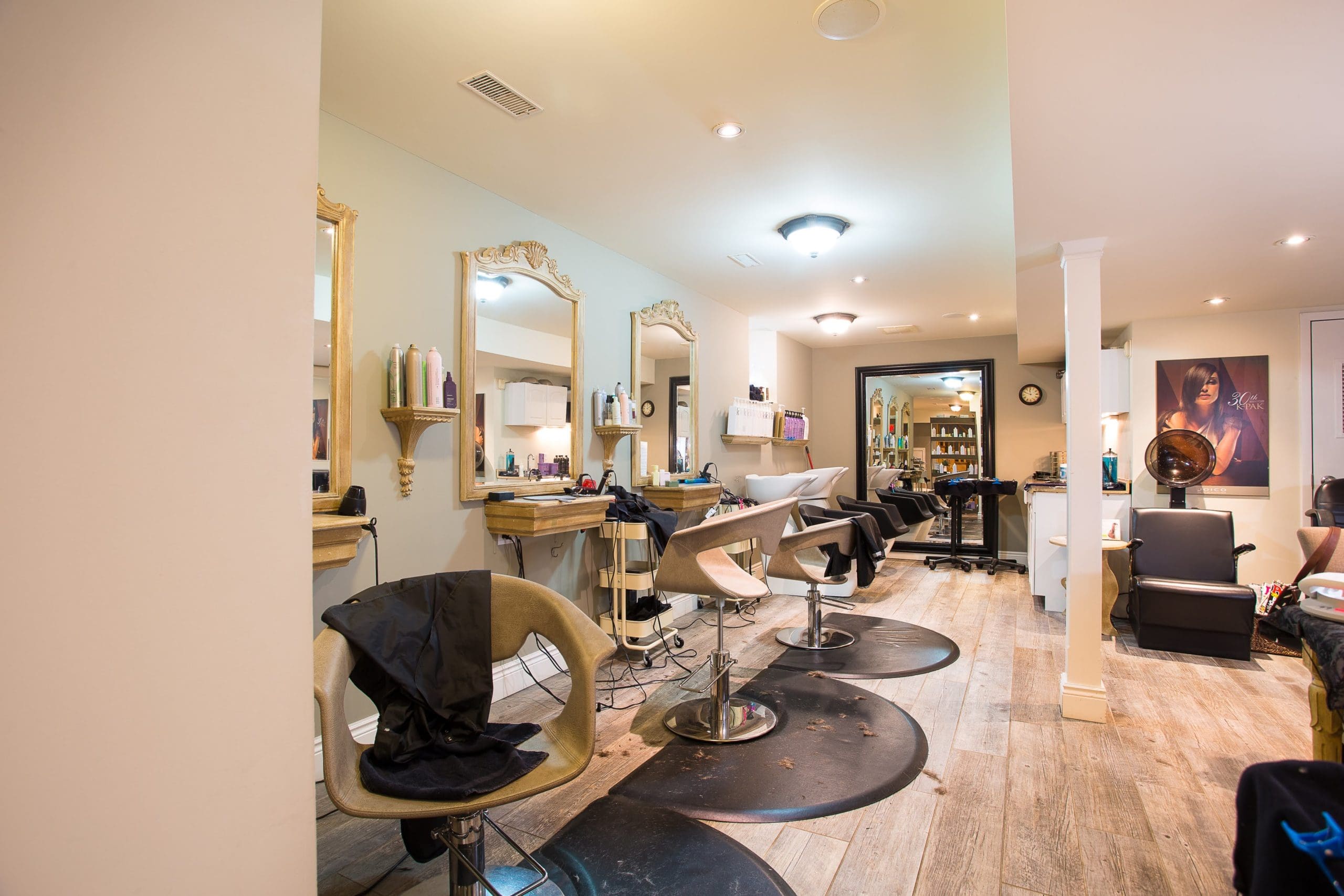 HAIR SERVICES
All haircuts include a scalp massage, shampoo, and style.
HAIRCUTS
Barbered cut | starting at $31
Bridal styling | starting at $110
Formal style | starting at $75
Kids 12 and under | starting at $30 (price increase for long hair)
Medium to Long Cut | starting $65
Medium to Long Teen Cut (12-16) | $48
Shampoo And Style | $45
Bang trim | $15
Short Teen Cut (12-16) | $28
Short to Medium Cut | $55
Self-Care Package | $160
CHEMICAL TREATMENTS
All prices are subject to change. Prices may vary for length and quantity of hair as well as the amount of product used. Complimentary consultations are offered to help determine the exact price of the service you desire. Wash Cut and Style is not included in prices below.
Partial foil highlights | starting at $80
Permanent colour | starting at $70
Root touch-up | starting at $60
Full foil highlights | starting at $100
Full foil highlights and colour | starting at $120
Balayage | starting at $130
Call or book a consultation to discuss pricing for perms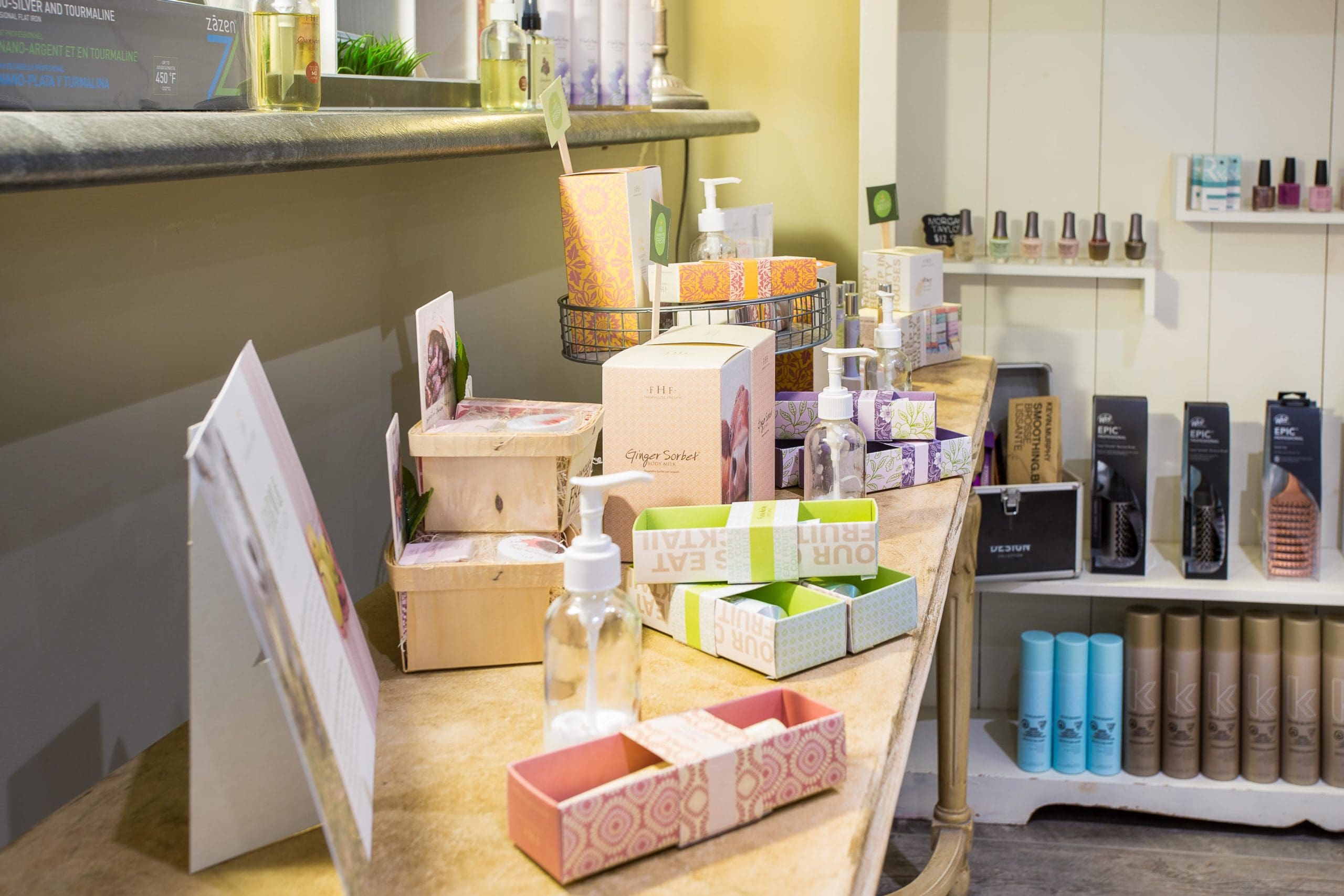 SPA SERVICES
BODY TREATMENTS
Bring a natural glow to your skin with our luxurious body treatments
Tropical Island Wrap
Escape with your senses with this deeply hydrating body wrap. After a full body exfoliation warm oils are drizzled over your body. You are then cocooned in a relaxing wrap while you unwind with a warm oil scalp massage. Leaving your hair and body with a brilliant shine and deep hydration.
Herbal Mud Wrap
Extremely rich in minerals this full body mud treatment will help increase circulation and remove toxins. After the body is fully cocooned in a warm wrap you will melt away with a warm oil scalp massage. Following a shower enjoy a full body massage to lock in moisture.
Body Polish
Enjoy a full body exfoliation to aide in releasing toxins and eliminating dead skin cells. After a refreshing shower fully unwind with a full body massage leaving your skin with a natural glow.
Blueberry Slimming & Toning
This treatment combines strategic massage with active ingredients to stimulate circulation and increase blood flow. Warm up in a wrap while the active ingredients do the work. Enjoy a scalp massage and finish with a full body massage. After the treatment you will feel lighter, firmer and naturally slimmer.
Lemon Sorbet Body Scrub
Hot Paraffin Back Treatment
Blueberry slimming & ToningBody Treatment with mini facial and eye add-on
Body Polish with add-on mini facial and eye treatment
Tropical Escape
RELAXATION MASSAGE
Your whole body will be massaged with gentle movements to relax and rejuvenate the body.
30 minutes | $60
45 minutes | $70
60 minutes | $90
HOT STONE MASSAGE
Hot Stones are placed on specific points of the body to relieve muscle strain as well as relax and calm the body. Hot stones are then used to massage and relax. (*please note our estheticians are not Registered Massage Therapists.)
60 minutes | $125
PINOT AND PEDICURE
Includes 2 Pedicures and 1/2L of Pinot Grigio to enjoy during your pedicure | $149 for two people
REFRESH PACKAGE
Includes Organic Facial, 30 Minute Relaxation Massage, Pedicure | $220
FRESH NAILS
Spa Pedicure, Spa Manicure | $110
FULL DAY
Facial, Salt Scrub, 30 minute relaxation massage, Shellac Manicure, Spa Pedicure | $350
FACIALS
Call and ask us about our new organic facial line
EAR PIERCINGS
Complimentary with the purchase of earrings.
MAKEUP APPLICATION
Makeup Application | $80
Makeup Application with Lesson | $95
NAIL SERVICES
Manicure | $47
Manicure Mini (ages 8-12) | $20
Mommy & Me Pedicure (child under 8yrs) | $90
Spa Manicure | $57
Shellac Manicure | $60
Spa Pedicure | $82
Remove & New Shellac | $38
Pedicure | $72
The Ultimate Pedicure | $95
Pedicure Mini (ages 8-12) | $30
Shellac toes add on | $15
Chocolate Pedicure | $85
Lemon Sorbet Pedicure | $75
Nail Art | $10
Nail Repair | $5
Nail Trim | $22
Polish Change (fingers) | $15
Polish Change (toes) | $15
Pinot and Pedi (need to book two) | $149
Fresh Nails | $118
Fresh Nails with Shellac add-on | $135
WAXING
Arm Wax | $35
Back Wax | $45
Bikini Wax | $35
Brazilian Wax | $55
Brow and Chin Wax | $28
Brow and Lash Tint | $45
Brow Tint | $30
Brow Wax | $18
Brow and Lip wax | $28
Chest Wax | $45
Chin and Upper Lip wax | $24
Chin Wax | $13
Full Face | $40
Full Leg with Bikini | $65
Full Leg | $65
Lash Tint | $30
Naval/Stomach | $15
Underarm | $18
Half Leg | $38
Upper Lip Wax | $13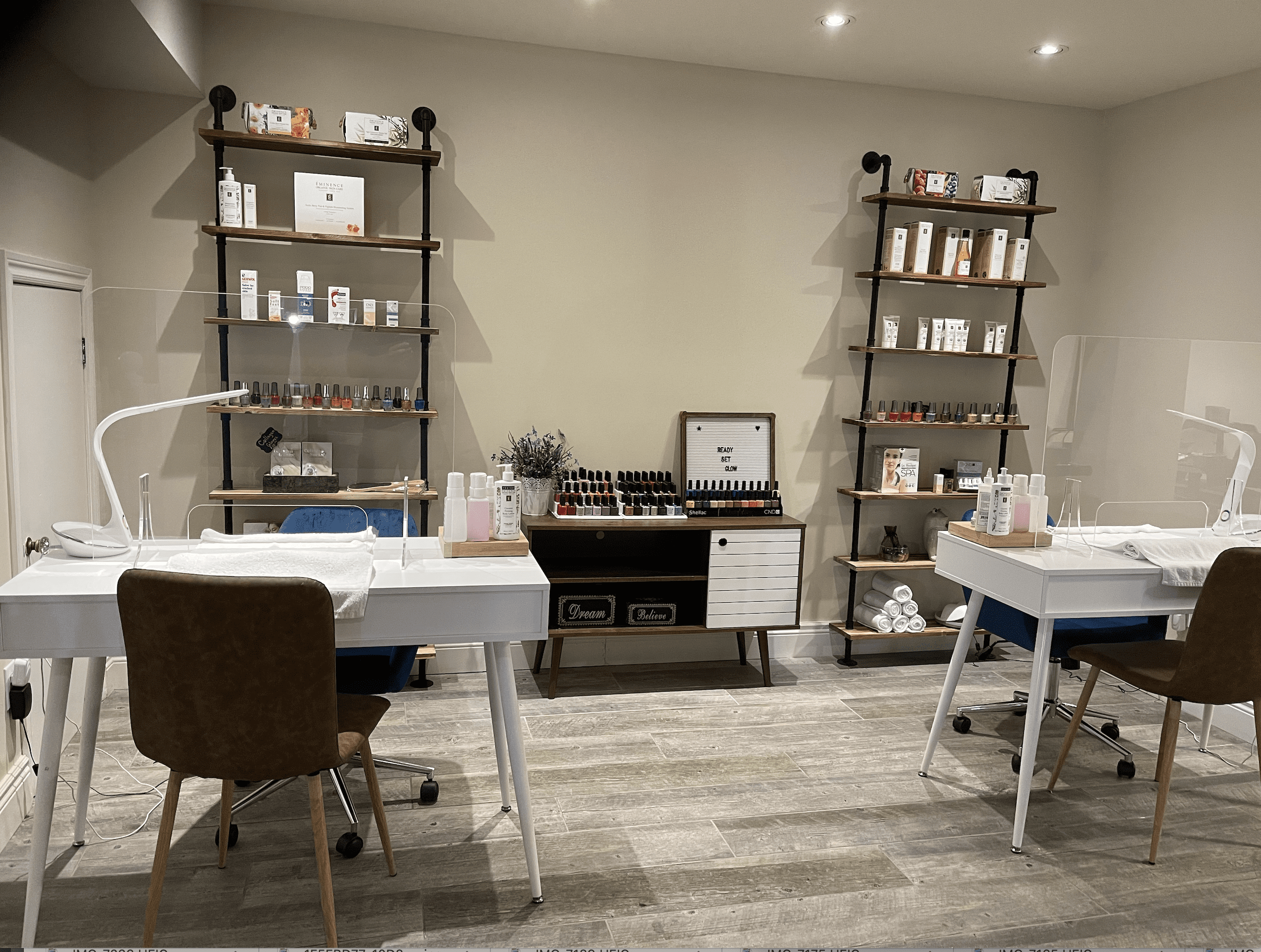 BOOK A SPA APPOINTMENT
Step into the world of relaxation